As a part of Electronic Arts (EA), Pogo is moving to the EA Network for account sign-ins. This means added security for you and the ability to access every EA game, site and service with a single account.
During this quick transition process, your Pogo Account will be turned into an EA Network Account. Don't be surprised if you get updated before your friends – the process will happen at different times for different players.
Step-by-Step Process
1. You'll know it's your turn to update when you see the screen below. Click CONTINUE to start the update process.

2. Create a new password for your EA Network Account. (Tip: If your current password meets the requirements, go ahead and use it again.)
3. Create a new security question. This will help you recover your account if you ever lose or forget your password.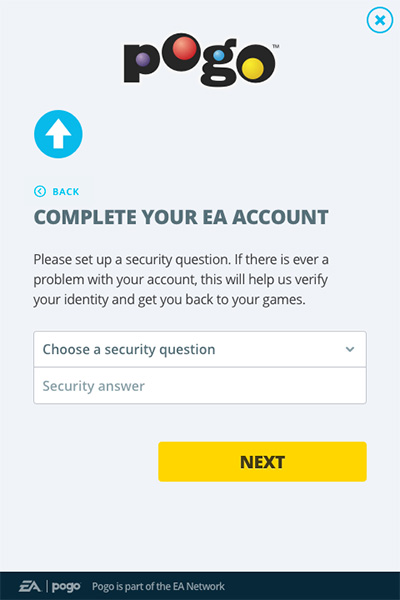 4. That's it! You're all set and ready to play.
Sign in to Pogo using your email address and EA Network password. Your Pogo Account is now an EA Network account and works across all EA games, sites and services.
Note: After your update, if you want to change your password, email address or security questions, visit 'My Account' on Pogo.com. From there, we'll redirect you to EA, where you can make changes.
Do you have other Pogo Accounts using the same email address?
You'll need a different email address for any additional Pogo Accounts you created. When you sign in with extra accounts, you'll see a slightly different flow. See our tutorial: An Easy Guide to Updating Multiple Accounts Sharing the Same Email. LINK