The new and improved My Collection feature is now available to all Club Pogo members! My Collection gives you a thorough overview of your entire Badge Collection and tracks your progress on completing Badge Albums. It's a handy resource for seeing what Challenges you have left as well as checking out all your historical stats as a Club Pogo member.
You can find My Collection by clicking or tapping on "Challenge" from the navigation menu at the top of Pogo and selecting the "Challenge Central" link. You may notice a new addition to Challenge Central—a row of tabs at the top of the page. These tabs allow you to quickly switch between Challenge Central, All Challenges and the new My Collection Page.
Near the top of My Challenges, you'll find a breakdown of just how many Badges you've earned and Albums you've filled. It's a quick snapshot of how much you've accomplished while playing on Club Pogo.
As you scroll down, you'll find sections for each type of Badge you can earn, starting with Weekly and Mix-n-Match Badges.
These sections are organized into Albums. For Weekly Challenges, the Albums are organized by year. With Mix-n-Match Challenges, new Albums are automatically created as your collection grows. Each Mix-n-Match Album showcases 20 Badges, organized by date of purchase.
Clicking or tapping on an Album will open it up, allowing you to see all the Badges contained within.
While viewing an Album, you can also use the options on the left to filter by "earned" and "unearned" Badges and by specific games. Unearned simply means that you have a Challenge to complete before the Badge shows up as earned and displays in full color.
This is a useful way of seeing which Challenges are left as you work to fill in your Albums. If your goal is to complete a Weekly Album from a specific year, you can easily see just which Badges are remaining.
Clicking or tapping on any Badge inside an Album will bring up an information card, covering Challenge goals, Pogi rewards, time limits and more. For earned Badges, this view also tells you when you completed the Challenge, and includes a full-sized version of the Badge art. This view works for both earned and unearned Badges.
When you click or tap on an unearned Badge, you have the option of using the "ACTIVATE NOW" button to quickly get started.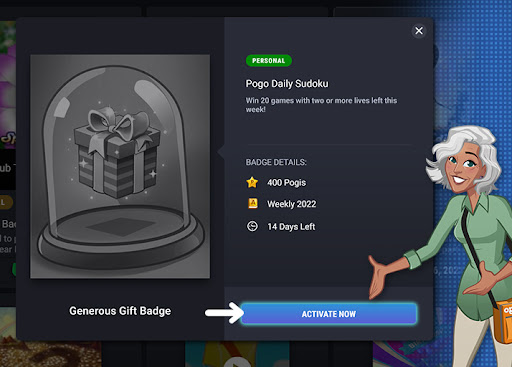 You'll also see Albums for Special Edition Badges and Game Award Badges. Special Edition Badges are often awarded to commemorate milestones and major events, while Game Award Badges are awarded automatically for completing certain in-game objectives. They require no activation and will be awarded as you play.
If you're a long-time Club Pogo member, you'll likely see some unique Albums for older Badge types that are no longer available, such as Legacy Badges and Premium Badge Albums. Legacy Albums encompass Badges for retired games, while Premium Badge Albums consist of themed sets of animated Badges. We wanted to make sure we included all your accomplishments, past and present.
Stay tuned – more great features, games and improvements are coming to Club Pogo!