Hello Pogoians,
We know that you're big fans of CLUE: Secrets and Spies, and our team has had a blast making this game for you. We've made over four hundred episodes of CLUE and have chased down countless leads and unique stories. Now, we're giving CLUE's Agents a bit of a break while we work on bringing you even more new and exciting games here at Pogo.
We will be releasing two final episodes of CLUE: Secrets and Spies on July 16 and July 30. Don't worry, though: even though we won't be releasing new episodes for the game for the time being, you'll still be able to go back and re-play any old episodes and purchase episodes for yourself. That's right! CLUE: Secrets and Spies is staying on Pogo for you to enjoy and re-play as often as you'd like.
We're also working on a special free Mini treat for players that we'll be giving out to celebrate the final episode of CLUE: Secrets and Spies on July 30. You'll be seeing a special sneak peek of these a little later in the Pogo Insider Blog.
Because CLUE has such a long (and fun!) history here on Pogo, I thought that it might be interesting to talk a little more with the writer for the game, Pogo Rachael.
Pogo Llama: Thank you so much for sitting down with me today. I'm really honored to have you here in the Pogo Studios to talk about your writing for CLUE. How long have you been writing CLUE for Pogo?
Pogo Rachael: I've been writing CLUE for nearly five years now. I've written 256 total episodes- whew! I remember how excited I was when I was first brought on to work on CLUE; it is a family favorite board game that I happen to be awfully good at. My mother and sister are both Pogo players who will see this article, so it's important for me to play up my board game abilities, hah!
Pogo Llama: What are your most favorite episodes that you wrote?
Pogo Rachael: I'd say it's the Halloween episodes that I wrote in 2015. Halloween's my favorite holiday, so I always wanted those episodes to be extra-fun. They start with Episode 258: Sly Sorcery and continue through Episode 262: Spellbound.
I wrote about a group of witches taking over HR at the main "spy" office and slowly changing all company policies to benefit themselves. I think it has a moment in which the recurring cat character, Ferdinand, has to be registered internally as an official familiar. I mean, I feel like if there's one thing that should be considered spooky, it's mountains of paperwork… right?
Pogo Llama: Do you have any favorite scenes that you'd like to share with us, too?
Pogo Rachael: I do! I really took pride in finding unique locations that would be pleasing to the eye for players. Here are a few that I especially liked.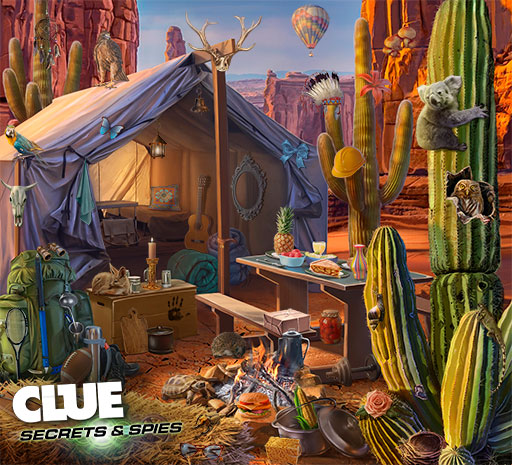 Pogo Llama: What were your inspirations when writing for CLUE?
Pogo Rachael: When I was little, my mom and I would watch a lot of re-runs of Get Smart and the live-action Batman series. I really loved both of them; they had a zany sense of humor that I got a kick out of. I thought it would be interesting to come up with ridiculous villains and extremely contrived "evil plans" that ultimately made almost no sense whatsoever. I don't know if I necessarily think that I'm a funny writer (the proof is in the pudding, I suppose) but I did try to be witty here and there when I could be.
Pogo Llama: What projects are you working on now?
Pogo Rachael: Oh, Llama's trying to get me to reveal big secrets! Well, I'm still working on Claire Hart 2, of course, which I'm very proud of: I really put a lot of myself in its characters. While I'm here, I should remind you that there's a free episode for Club Pogo players coming out in late July. It's zoo-themed, so players who like animals (and lemurs in particular) should enjoy it.
I'm also helping with some other games that you'll be hearing about in the future. I can't say much more about them at the moment, but I'm really excited about them- they look amazing!
Pogo Llama: Thank you so much for all of your years of writing for CLUE. We truly appreciate it and we can't wait to see how the Claire Hart 2's story line progresses!