Greetings everyone! With Sweet Tooth Town's update that was just released on Tuesday, we wanted to both show off some improvements that bring more clarity on Chocolate Coins and to build up your shops. We also wanted to take a few quick moments to go over upgrading your shops and building new ones.
In the update, we included a tool tip to the Town Map when you hover over your Chocolate Coins. Take a look:
Chocolate Coins allow you to buy and upgrade shops, among other things. After you complete all the puzzles in the game, you can spend Chocolate Coins to change the shopkeeper for whatever puzzle you want. Finally, Chocolate Coins can be spent during the live events when you visit the Town Hall. The events are coming soon, so keep an eye out!
Next, we updated the "You Win" screen shown after successfully completing a puzzle. You'll be able to see your final score and the amount of Chocolate Coins you won.
Any time you're prompted to spend Chocolate Coins in the game, you'll be able to see your current balance in the top-right corner of the screen. You'll be able to see how many you have before making any purchases.
When you start a new game, you have ten puzzles to play through in the Bakery. Once you reach level 10, you'll see this tutorial start. It will guide you through upgrading the Bakery to Tier 2 for 20,000 Chocolate Coins and unlocking more levels.
You'll be prompted to spend coins to purchase the upgrade. After 10 levels, you should have more than enough to upgrade. You'll see your bakery grow bigger!
The Tier 1 Bakery is on the left, and the upgraded Tier 2 Bakery is on the right.
From there, you can exit Construction Mode and select your Bakery. At Tier 2, you'll see levels 11-30 unlocked. Take a look at the before and after below:
This is how your Bakery looks at Tier 1, with 10 levels to play.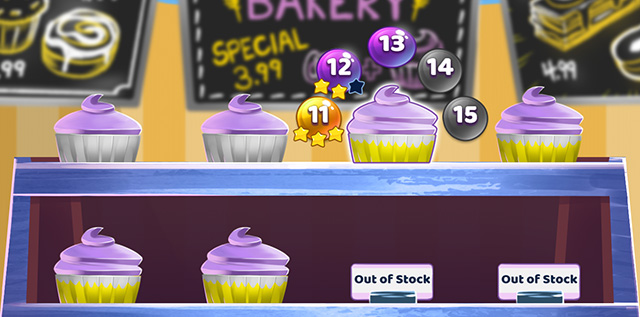 This is how your Bakery looks at Tier 2, with 30 levels to play.
Keep playing through the new levels to earn more Chocolate Coins. Once you reach level 30, you can upgrade your Bakery to Tier 3 for 50,000 Chocolate Coins and unlock 30 more levels. You can also add additional shops to your town by entering Construction Mode and selecting a vacant lot.
When you click on a vacant lot, you are presented with this menu. Each shop has a different shopkeeper and different level obstacles. Each shop also has three tiers that increase the size of the shop and unlock new levels.
We hope this helps ease any confusion about Chocolate Coins, unlocking more levels and bringing your own Sweet Tooth Town to life. Have fun!