Note: this message has been updated on July 16, 2018 and was recently published on June 18, 2018. 
As we get ready to transition to the new EA Network sign-in system, we're continuing to review accounts for any potential problems. As such, some of you will once again encounter one of the pop-up messages below starting tomorrow, July 1: (If you don't see either message, then your account is good to go).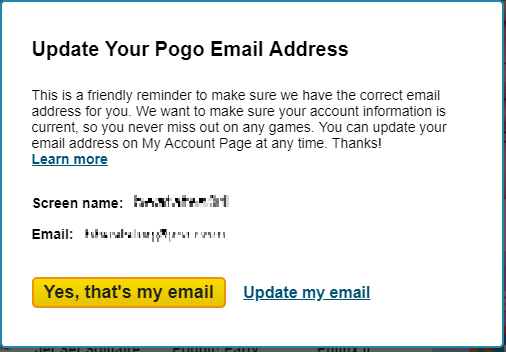 If we've already detected a problem with your email address, you will see this screen instead:
If you see either message, please take a moment to make sure your address on record is current and one you have access to. If you encounter any problems signing in to Pogo, having a valid email address helps ensure a swift account recovery. We want to get you back to your games as fast as possible!
If the email address on record is incorrect or one you no longer have access to, please update it immediately. You can do so any time from the My account page.
For more information on the upcoming Pogo sign-in changes, please review this handy guide.
Thanks for your understanding!
-Your friends at Pogo & EA