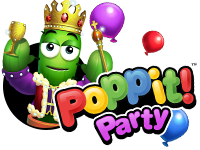 Want to know more about PopCoins, The Marketplace and Daily Pop Goals in Poppit! Party? If so, you're in the right place. Please, read on.
PopCoins
Use PopCoins to purchase items in the Marketplace. Earn PopCoins by scoring in the game. The larger the score, the more PopCoins you earn. You get points in the following ways:
Balloons popped
Super Pop Bonus
Prizes collected
All prizes released
Bonus for exactly 5 balloons left
Bonus for exactly 4 balloons left
Bonus for exactly 3 balloons left
Bonus for exactly 2 balloons left
Bonus for exactly 1 balloons left
Bonus for all balloons popped
Leftover Power-Ups bonus
PopCoins look like this
If you need more PopCoins  you can buy various sizes of PopCoin Packs. Select the '+' icon next to your PopCoin amount in the upper-right corner of the screen.
Marketplace
The Marketplace is THE place to purchase all those harder-to-find items. You can purchase items in the Marketplace using PopCoins. How do you get to the Marketplace? Click on the Shopping Cart icon which is located in the upper-left corner in the costume selection screen.
After ONE HOUR, the Marketplace refreshes and you'll have a chance to get a different costume piece to purchase … Think of it like having different fashion seasons. There's a timer on the costume refresh that is located in the upper-right corner for your viewing pleasure. If you'd like to refresh the Marketplace instantly, there is an option to do so using Gems. Another thing to make note of is that the Marketplace has different items for every player. This way, players are able to experience different costumes.
You store items from the Marketplace in the Marketplace Slots. All players will get two free slots. Club Pogo Members get an addition 2 more slots for a total of 4 free slots. You may unlock even more slots with PopCoins.
Daily Pop Goals
Guess what? There are daily goals! Do you know what daily goals mean? It means daily FREE prizes! Complete all Daily Pop Goals in a day, (before Midnight Pacific Time) and you'll receive a GOLD CHEST as your reward.