Early Access is packed with the best parts of Pogo. We wanted to build a new experience that puts the things you love most front and center and gives games the big, bold treatment they deserve.
Let's take a closer look at one of the bigger changes on Early Access – the Challenge Central page!
On the new Pogo, Challenge Central takes the place of Badge Central. Located under the "Challenges" tab on the top menu bar, this is where you can find and explore the huge library of Challenges available for Pogo's HTML5-powered games.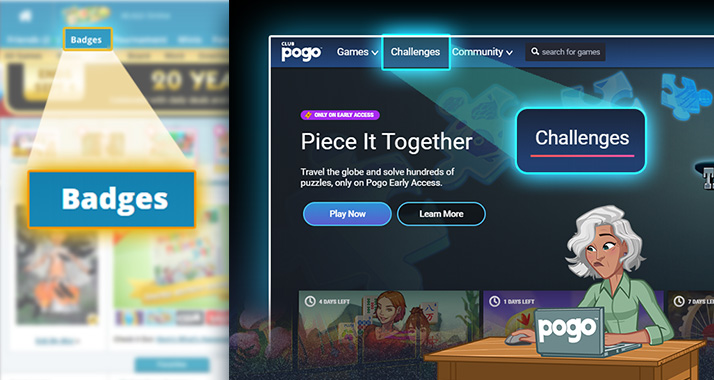 When you visit Challenge Central, you'll discover the latest Daily and Weekly Challenges up top. If you scroll down, you'll see an assortment of featured Mix-n-Match Challenges. The Active Challenges carousel helps you keep up with your progress and see how much time you have left.
Want a better preview of the Badge reward? Tap each Weekly, Personal and Mix-n-Match Challenge tile to see a preview.
But what if you don't see a Challenge you're looking for? With the "Browse All Challenges" button, you can dive deep into the archives.
Thanks to handy filtering and sorting options, it's easy to find Challenges for specific games, or even identify gaps in your Badge collection.
We've got a lot more in the works, including new ways to view your Badge collection. Stay tuned to the Pogo Blog for the latest news on games, features and improvements coming to Early Access!
If you haven't made the switch yet, just look for the blue ribbon at the very top of Pogo. You can toggle to Pogo Early Access and start exploring. See you there!
-Your Friends at Pogo

NOTE: Comments may take some time to be approved. Those which are off-topic, counterproductive to fostering a positive environment, or are offense will not be posted. Unfortunately, we are unable to help out with any technical questions via the blog. Thank you for your understanding.
If you are experiencing issues or have any concerns, please consult the following resources:
Thank you for being a part of the Pogo Community!
Comments for this blog will be turned off on Friday at 4PM Pacific time.