Hello Pogoians!
Happy Tuesday to you all and welcome to this week's Pogo Insider Blog. How was your weekend and what have you been up to this week so far? I know, I know. It's only Tuesday and there's a whole lot of week left. I hope yours is off to a good start.

This week's Sneak Peek is for two up and coming games. Here are a few photos from Sweet Tooth Town.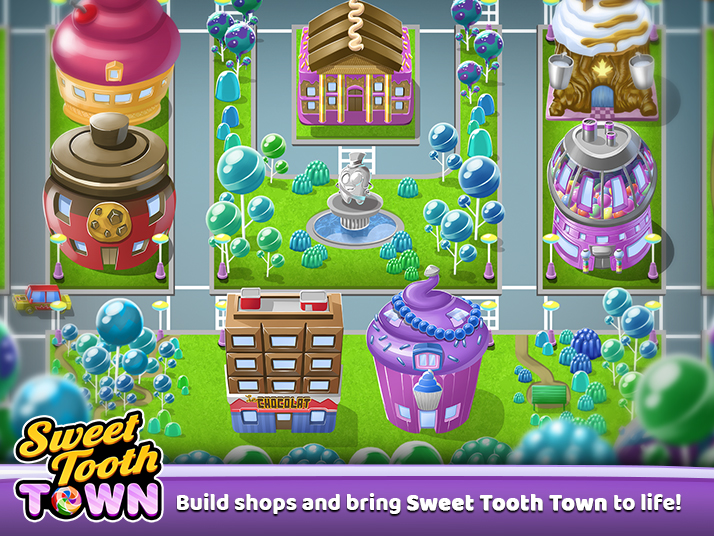 And here is a scene from Claire Hart: Soul Searcher and the same scene from the new Claire Hart Classic.
Here is the original Claire Hart: Soul Searcher Episode 28 Valentine's Special: Penguin Valentine
Here is the view from Claire Hart Classic Episode 28 Valentine's Special: Penguin Valentine
Welcome to the Construction Zone! Here is where you will find the latest on game updates. What is currently "under construction" on Pogo? As often as I can, I'll sit down with the Pogo team and get the latest info on which games are being worked on and what's coming. I will always post more details when I have them available. Please understand updates are subject to change.
Please understand that unless an announcement comes directly from EA and/or Pogo, we cannot endorse it as true. All games and updates reported here in the Construction Zone have been given the "go ahead" and are on track to come out. Anything else that is reported is speculation right now.
Upcoming events:
February Game of the Month – Word Whomp HD
Winter Journey Challenge Quest – This 4-week follow-up to the Autumn Odyssey Challenge Quest kicks off on January 30. Get ready for another big quest!
Mahjong Escape Badge Marathon – Starts February 5, with five new Challenges.
Ten-Game Badge Marathon – Slated to begin in mid-February.
Solitaire Gardens Badge Marathon – You'll be able to give your green thumbs a workout on this one near the end of February.
Game Updates:
Poppit! Party ™  – New costumes were released today! Which new costume is your favorite?
Cookie Connect – New levels and Badges are coming in February.
New Games:
Claire Hart Classic – Releasing January 31. The Flash version of Claire Hart: Soul Searcher will go offline on January 29. The new HTML5 version, called Claire Hart Classic, will go live the same day. All the episodes that you purchased in the Flash version of Claire Hart: Soul Searcher will be owned by you in Claire Hart Classic! You can read more about Claire Hart Classic here.
Trizzle – Slated for late February. Learn more about this HTML5 update here.
Sweet Tooth Town – A new game is arriving here in Pogo! You can expect this to release in February.
Coming in the first half of 2019 – Word Search Daily HD, Pogo Daily Sudoku (a brand-new game), Mahjong Garden HD and many more.
Website updates:
Mini Mall – Here are when the next Mini Mall updates will be:
February 7, 2019 – World of Pogo
March 7, 2019 – St. Paddy's Day
Please note, after March 7, 2019 there will be no new items added to the Pogo Mini Mall as we focus on bringing new content and updates to other parts of the site. Your wardrobe of Mini items will remain available to you, along with tons of items in the store.
Here's some information about upcoming updates and changes from recent blog articles:
Tokens – As many of you are aware, the current token system will be replaced with a new awards system. As stated in a May 2018 blog, I, and the rest of the Pogo team, know this is a point of contention for some of you. For those of you for whom tokens provide a way to project status and achievement over time, we hear you and we understand your aversion to losing this status. Tokens in the current Flash and Java games will remain and will not be removed. We thank you for your understanding. Stay tuned for more information about the upcoming system.
Safari 12 and Java – Please click here to read more about Safari's latest update.
Java 11 and Internet Explorer 11 – Please click here to read more about Java's latest update and what that means for Internet Explorer 11.
Pogo recommendations and specifications for your computer have been updated as of August 14, 2018.  These are the recommended specifications for playing Pogo games smoothly on your computer. If you are experiencing loading issues, I strongly encourage you to check out the computer specifications listed. Having a compatible computer helps ensure the best possible Pogo experience!
Chat – We know a lot of you guys love chat and consider it a critical feature. We're aware of the many requests for chat to be updated and to be returned to the side of the game screen. The team here is looking into it. I'll give you an update as soon as I have one!
Every week I answer a non-technical question related to Pogo. We get lots of questions every week, so I try to focus on common themes or the same question coming from different folks. Please ask your non-technical related question in the comments section of the blog.
(For technical issues, please go to Pogo's Help Page.)
Q. Do you know if (enter game name here) will be transferred over to HD?
A. Almost every Pogoian has a favorite Pogo game and some of those were built in Java or Flash. So we understand why so many of you are anxious to learn if and when your favorite game gets updated. I want to make sure you always have the most current up-to-date information on which games are being transferred over. Once I receive the word about any games being converted to HD, I share the news in the Construction Zone section of the blog. I'm always eager to share any good gaming news. Please make sure you are watching the Construction Zone section of this blog for all game updates.
Q. Is Sweet Tooth Town replacing Sweet Tooth 2?
A. Sweet Tooth Town is a brand-new game will not be replacing Sweet Tooth 2. In some ways, it's a big, bold sequel!
Speaking of Sweet Tooth Town, it will be arriving on Pogo in February. Pogo Terry (a.k.a. Cap'n Pinchers) will be joining me in the Pogo Studios to answer questions about this upcoming HTML5 title. If you have a question for Pogo Terry that you'd like answered in the Q&A, please comment below. It's quite possible your question will be answered.
To those experiencing cold temperatures, please stay warm and be safe out there. Have a great week and good luck to all of you embarking on the Winter Journey Challenge Quest!
Take good care and remember you matter.
Cheers,
Pogo Llama

NOTE: Comments may take some time to be approved. Those which are off-topic or counterproductive to fostering a positive environment will not be posted. Thanks for reading the Pogo Insider!
If you're having troubles loading or getting into a Pogo game, please go to Pogo's Help Page. Unfortunately, I am unable to help out with any technical questions via the blog. Thank you!