Hello Pogoians!
Happy Tuesday to each and every one of you here in Pogo! Welcome to the Pogo Insider – the 75th edition to be exact.  Thanks for your understanding of the comments being closed last week. I was in Yosemite and I took this photo for you all! Please note the magical rainbow that was captured. Have you visited Yosemite before?

 This week's Mini Mall release on Thursday will be a sale with a variety of items, some pet-themed and some Mother's Day themed. You can see a quick preview below! We'll also have another Mini release next week on May 17th with some items for Memorial Day, so Pogo Rachael will be here with a preview for you then, too!
Welcome to the Construction Zone! Here is where you will find the latest on game updates. What is currently "under construction" on Pogo? As often as I can, I'll sit down with the Pogo team and get the latest info on which games are being worked on and what's coming. I will always post more details when I have them available. Please understand updates are subject to change.
Please understand that unless an announcement comes directly from EA and/or Pogo, we cannot endorse it as true. All games and updates reported here in the Construction Zone have been given the "go ahead" and are on track to come out. Anything else that is reported is speculation right now.
Game Updates
Jet Set Solitaire – New levels released today! Play them now!
Jewel Academy – 40 new levels coming your way in May.
Quinn's Aquarium – Part 2 Tropical Tank Aquarium May 8th  (next 60 levels) out today! NOTE: New levels unlock every 2nd Tuesday of the month. Tile design updates are in testing right now.
New Games
Crossword Cove – New H5 version coming May 22 with US style layouts.
Stack'em – New H5 version coming in June.
Post Cards From Britain – Coming in June.
A Way with Words – New word game coming this summer.
Known Issues
Sound – Google Chrome has updated their browser to include a feature where it auto-shuts off sound. Well, don't you worry as the Pogo team is currently working on a fix on our end for this situation. However, until that is released, please click here for a workaround.
Website updates
New Pogo Sign-In Experience – New Pogo sign-in experience will be starting to roll out in July and end in October. Please click here to read more.
Scrabble and Monopoly: Please click here to read more information about Scrabble and Monopoly being removed from Pogo.
Prizes – The Prize link has been temporarily removed from Guest and Free pages on Pogo.com while the team works on revamping those pages.
And the winner is…..
Thanks to all who participated in the naming and voting of the crab for the new Crossword Cove HD! The results are in and the name will be Cap'n Pinchers! He actually stopped by the office so we snapped a picture of him for you.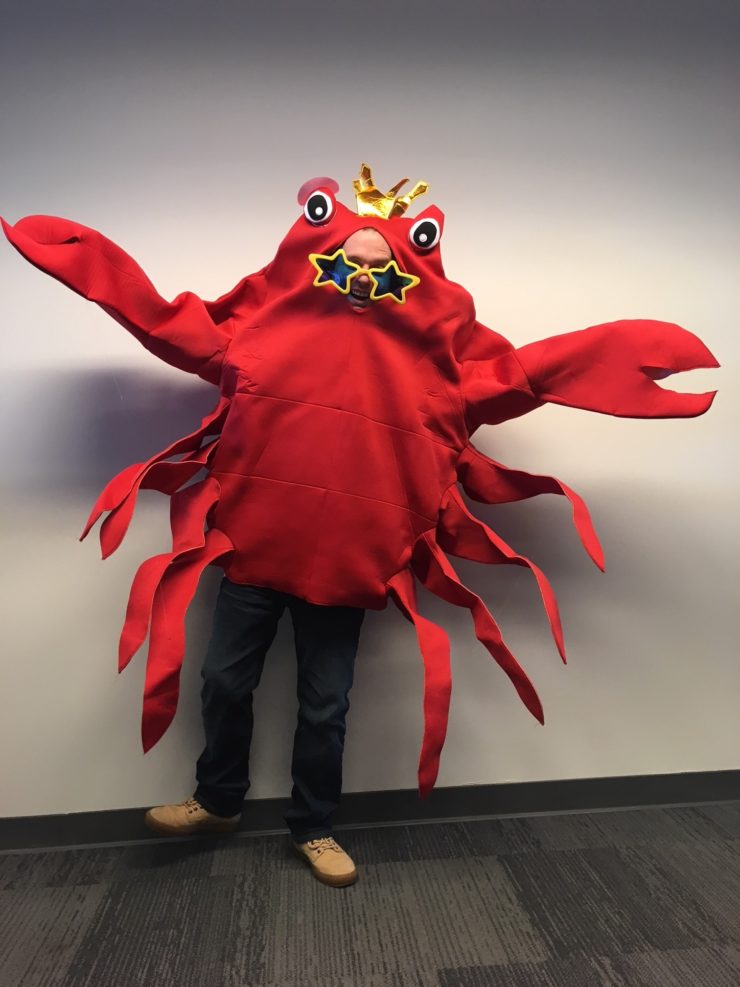 Badge Marathon
The Mother's Day Badge Marathon has begun! If you're a Club Pogo member and have not yet heard about it, please click here for all the details. Please remember If you can finish all ten Challenges before 11:59 pm PT on May 13, 2018, you'll win an animated Completion Badge.
Every week I answer a non-technical question related to Pogo. We get lots of questions every week, so I try to focus on common themes or the same question coming from different folks. Please ask your non-technical related question in the comments section of the blog.
(For technical issues, please go to Pogo's Help Page.)
Q. Because I can change my EA Public ID name often, will I be able to change my Pogo screen name every once in a while as I see fit to do so?
A. Based on feedback, there will be no screen name changes required for any Pogo accounts. For those of you interested in changing your screen names, that option will be added later in the year. We will provide details on that when it becomes available.
Thank you all for being here and reading the Pogo Insider. I hope you have a fantastic week here in Pogo. Have fun with all of your Challenges!
Cheers,
Pogo Llama

NOTE: Comments may take some time to be approved. Those which are off-topic or counterproductive to fostering a positive environment will not be posted. Thanks for reading the Pogo Insider!
If you're having troubles loading or getting into a Pogo game, please go to Pogo's Help Page. Unfortunately, I am unable to help out with any technical questions via the blog. Thank you!