Hello Pogoians,
Thank you for reading this edition of the Pogo Insider. As I type those words, I want you to know how grateful I am to have you all here, both here in Pogo and reading this blog. Can you believe that the month of January is already almost behind us? What are you all looking forward to in February?
Sneak Peak
Pogo_Rachael is stopping by with a preview of this Thursday's Valentine's Day Mini release! Take it away, Rachael!
"Valentine's Day is always a really fun release for us because we get to have a little bit of fun while showing off our romantic side. This year we have an animated red forest background that is especially pretty, plus a few sweet goodies. I hope everyone has a nice Valentine's Day- save some chocolate for me!"
Amazing Mini Show
The next Amazing Mini Show will be ON Valentine's Day, Wednesday, February 14, 2018. Please note the time is at 2pm PT.
WHEN: Wednesday, February 14, 2018
WHAT TIME: 2 PM Pacific (5 PM Eastern, 10 PM GMT, 4PM Central)
WHERE:  Sweet Tooth 2 Caramel Rooms
Rooms: Amazing Mini 1-24
Theme: TBD
What would you like the theme to be? Please comment below and I'll select up to 10 of my favorites and you can all vote in the next Pogo Insider. Please make sure they are clean suggestions and related to Valentine's Day in some way! I'm looking forward to seeing what you folks come up with.
Construction Zone!
Welcome to the newest section in the Pogo Insider. Here is where you will get the latest on game updates. What is currently "under construction" on Pogo? As often as I can, I'll sit down with the Pogo team and get the latest info on which games are being worked on and what's coming. I will always post more details when I have them available. Please understand updates are subject to change.
To kick things off, I wanted to give you an update! On January 12th, I announced World Class Solitaire HTML 5 was on its way. And now, I have the official date of when you will be able to play it! World Class Solitaire HTML 5 will be coming to your Pogo screens on Tuesday, February 13th! For all the information on what to expect, please click here. I can't wait for you all to play it!
Game Updates
Solitaire Gardens – New content released 15th of each month
Mahjong Escape – New content released 1st of each month
Cookie Connect – 40 new levels in February
Jet Set Solitaire – New levels being planned.
Recently Updated
Jewel Academy – 40 new levels released TODAY!
Poppit! Bingo – Sound fix coming in February (this is the sound fix that you have all requested where you will be able to mute the sound but not the caller's voice).
Monkey Gems – Players had reported they could not load game. This was fixed last week.
Solitaire Gardens – Difficulty on Persian Gardens adjusted last week.
New Games
World Class Solitaire – New HTML 5 game arriving February 13, 2018
Turbo 21 – New HTML 5 game coming soon
Crossword Cove – Development has been kicked off to transfer from Flash to H5. No date or other information is available at this time.
Vanishing Trail – New Hidden Object Game (HOG) coming in February
Grub Crawl – New Hidden Object Game (HOG) coming in February
A Way with Words – New word game coming in March
Claire Hart Sequel – New Hidden Object Game (HOG) coming in March. Click here for a recent blog article about this.
Website updates
New Pogo Sign-In Experience – New Pogo sign-in experience will be starting to roll out in March and end in August.
Chat – We're reviewing new chat solutions. I thank you for your feedback these last few blogs on your Pogo chat experience! I've collected the feedback and alerted the Pogo team.
Every week I answer a non-technical question related to Pogo. We get lots of questions every week, so I try to focus on common themes or the same question coming from different folks. Please ask your non-technical related question in the comments section of the blog.
(For technical issues, please go to Pogo's Help Page.)
Last Thursday, we posted an informational article about upcoming changes to the sign in experience here on Pogo. You can read this article by clicking here. I will now answer some common questions from that blog posting.
Q. What does "name conflict" mean? Does this mean that if Pogo users have the same screen name as someone who's on EA network, then Pogo users will need to update their screen name? What's the selection process for if someone has the same username and who gets to change it?
A. Name conflict means that someone within the EA network is already has that screenname. If this happens, you will have to change your screenname during the upgrade process. Here's the upside to this: After this transfer is complete, all players will be able to change their screenname anytime. (Just keep in mind that the username has to be available and that no one else has it). You will also keep all of your Pogo items (Badges, Gems, Tokens, Expressions, etc.) through any of the possible screenname changes.
Q. I want to change my screen name. Even if it does not conflict with another name, can I still change it
A. At this time, it is not possible to change your screenname on Pogo. After the transition, you will be able to change your screenname anytime from EA.com.
Q. If I have to change my screen name, will I lose all of my items?
A. No, you will not lose anything regardless if you change your name or not.
Q. I don't want my email to be posted for everyone to see!
A. Your email will never ever be posted for any player to see. This change is in an effort to make Pogo more secure. Your email will only be used to log in, instead of using your screenname as you currently do now.
Q. I only have a Pogo account. I do NOTHING with EA, thought I do know that EA owns Pogo. I don't own a mobile phone, not on ANY social media. I love being able to just click the short cut to Pogo. With all these coming changes, how will that affect MY account?
A. Since your account is not connected to Facebook Connect (as a means to sign into Pogo), you will not be affected by the Facebook Connect transition.
Between June and August, you will be prompted to sign-in on Pogo using the new sign-in process. Whereas right now you sign-in using your screenname and password, you will now be signing in using your email address and password. You will also need to register with a new password and set up a security question. This is a question that will be referenced if you having troubles remembering your password or email address in the future, and it will help keep your account more secure. You will be able to request your password by answering the security question. This is all for tighter security measures and no one will have this information except for you.
If you have more than one Pogo account registered under one email address, you will need to make sure that each account you have has its own unique email address. Please note, this will not result in a loss of any of your Pogo items or ranks.
Q. Why are you connecting my Pogo account to Facebook?
A. Please understand that Pogo is NOT connecting your account to Facebook. It's quite the opposite, actually. There are Pogo players who use Facebook to sign into their Pogo account. This is called using Facebook Connect. However, starting in March, using Facebook Connect to sign in will not be an option. Again, Pogo is not in any way connecting your Pogo accounts to Facebook. We will provide Facebook Connect users with a way to choose a new password to login when the transition occurs.
 Q. I have 3 screennames that I use for Pogo. They are all registered under 1 email address. Are you saying I will need to have different emails for all 3 of those accounts, for example: Yahoo, Gmail, Hotmail?
A. You must provide one unique email address per account/screenname. It does not have to be three of any type of provider. You can have three Yahoo email address as long as each email address is different.
Q. Why must you do this? Why can't you leave things alone? It's not broke, don't fix it!
A. Great question. Many of you have asked why this must be done. This new sign-in process will make all of your accounts safer and easier to navigate once this transition has been completed.  Please understand, we will be walking you through this with instructions every step of the way. If you have questions, we are here to answer them.
Q. I use Pogo.com as my home page. Will this change if I have to always sign-in?
A. This will not be changed. You can still use Pogo.com as your homepage. You will stay remain signed in the same way you are now. You may be prompted to sign back in after 60 days, however.
Q. I'm not computer savvy. I'm afraid I won't be able to follow the instructions for this new format.
A. I am here to help you through every step of the way. My team and I are here to walk through this with you, too! I also give my word that this will not be hard. We'll get through it together and once we're out the other side, everything will be smoother and better and more secure for you!
Whew! Thanks to everyone who submitted their questions. If you have further questions, send them my way and I'll answer them in another Pogo Insider.
Is anyone else loving the squirrel in Jewel Academy? I'm working on the Cool Customer MnM Badge and the Wednesday Challenge Badge for Jewel Academy and as I'm making my way up to the different levels, I just noticed this squirrel. It's SO cute!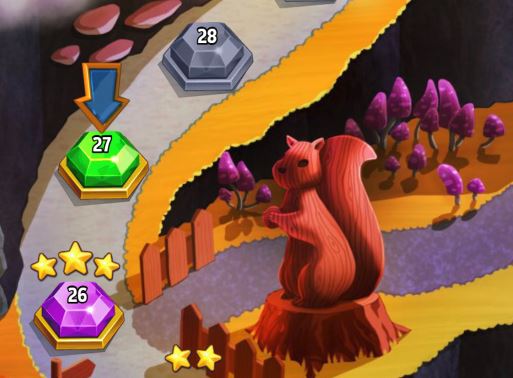 I hope you all have a fantastic rest of the day. Thanks again for reading the Pogo Insider.
Cheers,
Pogo Llama

NOTE: Comments may take some time to be approved. Those which are off-topic or counterproductive to fostering a positive environment will not be posted. Thanks for reading the Pogo Insider!
If you're having troubles loading or getting into a Pogo game, please go to Pogo's Help Page. Unfortunately, I am unable to help out with any technical questions via the blog. Thank you!