Hello there mighty Pogoians,
Thanks for stopping by for the 6th edition of the Pogo Insider. It's been a bit cold outside so I hope you're all staying warm. Perhaps that means playing extra Pogo? The holidays kept me busy and now Poppit! Bingo is keeping me busy so I cannot report on my Phlinx progress this week although I do intend to get on that for the blog next week.
Last week with PBA 113, I understand there was some confusion with what I shared. I shared one of the Badges out of the Premium Badge Album 113; this is our 113th story-driven PBA. All of our "best of's" are offshoots that do not follow this numbering. We have released more than 113 Premium Badge Albums, so you're definitely correct in saying that we do have more than 113 of those. We hope you enjoy our 114th PBA story coming out next week!
Sneak Peek
Pogo Artist, Marshall wanted to send us over a preview of an upcoming February Badge. This is called the "Handle with Care" Badge and will be for the February 6th Mix and Magic.
This is what Marshall had to say about his conception of the Badge, "The idea for this badge (as with most of my concepts) came from the challenge associated with it. The challenge is to find 8 objects in a row, without mis-clicking, so the idea is that the player will have to work quickly but carefully. Since CLUE is a game about agents and espionage, I thought; "what would a secret agent need to do quickly and carefully?" My answer was an agent working with a dangerous and volatile (possibly explosive or radioactive) chemical. That is the basic genesis of this badge. Plus, "Bonus", I get to paint that awesome, red glowing effect."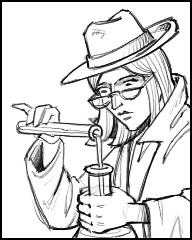 Here's the sketch and the finished Badge

Solitaire Gardens – Fairytale Garden Phase 1
Solitaire Gardens has a brand new garden for you to decorate, one with a magical twist. The enchanted Fairy Tale Garden brings 60 new levels, new Badges to win and new decorations to unlock. We can't wait to see what you come up with in your garden! Here's a sneak peek at two of the newest Solitaire Gardens backgrounds.
Please click picture above to enlarge
There have been a number of Poppit! Bingo questions coming through the various channels so we'd like to address some of the most popular ones.
Where are my room 8 Badges? – This has already been answered in a previous blog, but still pops up consistently.

This particular question was answered in the 3rd edition of the Pogo Insider. You can read that answer here.

Are we unable to complete level 50, as I am not earning XP?

I've reached out to our Poppit! Bingo team and they stated that level 50 is the current max in terms of ranks as of right now. The Badges are won according to rooms and there is not a Badge for that rank/room at this time. However, the team WILL be adding more ranks/rooms in the future.  I apologize that if you're at the max right now but please be on the lookout for more additions to come.

Once I reach level 50 do I still earn Cactus Cash and tickets from playing?

Once reaching level 50 in Poppit! Bingo, players are still able to earn Cactus Cash, Tickets and other Badges that may come up (such as a Wednesday Challenge Badge). The only items not available at this time at level 50 are the Room Badges and XP.
Every week, I'd like to answer a few of your Pogo-related questions. Please understand that I am unable to respond to your personal technical questions. To submit those questions, go to our Help Page here. To submit your question, please go here and I'll select two every week. Here are the questions I selected this week.
 Why won't the cards deal in Jungle Gin?
We hear you that you're having this happen to you and we are actively looking into this. Because this issue isn't happening to everyone, we are having a really hard time trying to figure out what is causing this. We highly recommend you visit Answers HQ and post there so we can gather information regarding your computer, operating system, browser & etc., so we can send this on to our engineers for further investigation. You can visit Answers HQ here. Thank you!
 What's up with the screenshot of the minis not changing? "Any idea when these will be fixed or will be stuck on our Christmas Mini forever like Bill Murray in Groundhog Day!?"
I really enjoyed the Bill Murray reference. Thank you for that!
The Minis not changing the screenshot is a known issue and we have alerted the team to it. However, due to the holidays, the fix has been a bit delayed. It's coming though; it's coming!
Here's a possible workaround for the time being: Go to "Dress Up Your Mini," then when you have it dressed the way you want, save your Mini. Then, click the "Take a Snapshot" button. Then go to your snapshots, click put on and save on the newly created snapshot. You may need to go through the flow more than once, but sometimes I've had it work.
Polls
What topics would you like to see covered in the Pogo Insider? Please leave your thoughts below on this topic in the comments section.
Every Monday, we start a new community poll. Last week the question was "What is your New Year's Resolution?" Overwhelmingly, the number one answer was "I don't have a New Year's resolution." The second most voted on answer is to enjoy life to the fullest and the third most popular resolution according to the Pogo Poll is to eat healthier. Please stop by our Pogo Community Poll every Monday to cast your vote for the poll of the week.
We want to hear what you think. I'm going to leave the comments open on this post so please take a minute and leave a comment below. Remember, questions submitted here will be the ones used for blog question and answer time.
Thanks all and have a great week!
Pogo_Llama