Happy Tuesday, Pogonians!
First order of business … we've got an announcement to make:
What the heck does that mean? It means it's time for Club Members to go play Phlinx II, y'all! (If you're not a Club Member, you can sign up by going here!)
Get to it! Phlinx II is up and ready to play – just click here and be whisked away into the mystical world of ancient Egypt, in its prime. And I'm warning you now … this game ROCKS the Nile.
And because you guys are #1, I've got a look at all the Badges ready for the winning in Phlinx II ready for ya (they're SO cool!)
Pogo_Cactuar and I have been playing Phlinx II like nobody's biz, and we put together an article of questions we had and then answered.
Just give us a shout in the Comments below if you've got questions about the game. We can't wait to hear what you think!
* If you have a technical issue (this includes game loading problems) head on over go to the Pogo Help  page and submit a support ticket so those mighty find Customer Service peeps can help straighten things out for you, pronto. Thanks!
THANK YOU!!
THANKS MUCHO to all of you fine Pogoians who got into the Spring spirit and joined us for the "Spring is in the Air" Amazing Mini Show last Thursday! It was not only super fun, but super creative and colorful! I hope you all know that each and every single one of you had an awesome Mini. It is really hard to pick winners. Because … You. Are. ALL. Winners! :)
Pogo Insider Exclusive:
It's the 20th Pogo Insider blog and I am going to do something I've never done before here. And that something is a special sale – just for you –  in Poppit! Bingo on Cactus Cash. Yippee!
Today only (April 18, 2017), purchase 4,000 Cactus Cash for juuuuuust 62 Gems in Poppit! Bingo.
Enjoy your exclusive-first from Pogo Insider.
Sneak Peek:
Pogo Artist Marshall has a Pogo Insider sneak peek into the world of three different Pogo games … one of which is coming soon (Poppit! Party). Check 'em out!
Mahjong Escape (Mahjong Thru Time Badge)

Poppit! Party (Tall Order Badge)

Poppit! Bingo (All About Bling Badge)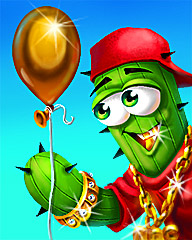 Which one is your favorite? (Be sure to comment below.)
I like all three of course, but I think I most enjoy the Tall Order Badge for Poppit! Party because…how CUTE is it?! I mean, Spike dressed up as a knight and a big (but friendly from the neck down) lookin' dino…be still my cutness overloads.
Coming Soon: Get to Know Your Friends at Pogo!
Ever wonder who's responsible for picking Badge themes? Do you find yourself scratching your head wondering who determines those crazy PBA release schedules (there is a method to the madness)? Are you up sleepless hours asking no one in particular, "How the heck do they do it all!?"
Well! Wonder no more.
Pogo_Limes is the wizard behind the curtain managing content (Badges, PBAs, Sales, etc.) and he's going to be divulging his deepest secrets (a girl can dream) to me when he sits down for an exclusive interview. (He wanted me to tell you he says, "Hi," btw.) Aw. Such a nice guy!
Would you guys want to ask him questions, too? Then go for it! Leave your questions for Pogo_Limes in the Comments below and I'll address as many as I can when I interview him later this week. Stay tuned!
Every week I answer a question or two (non-technical) related to Pogo. We get lots of questions every week, so I try to focus on common themes or the same question coming from different folks. To submit your questions for the Pogo Insider, click here!
(For technical issues, please go to Pogo's Help Page.)
Q: I was wondering when more levels will be added to Cookie Connect. I've gotten at least 2 stars on all levels through 120, and I've gotten 3 stars on most of the levels.
Holy moly! How many of you out there have gone through to level 120 in Cookie Connect? Raise your hands out there and let us know. I'm writing an email to the game developers about this grand feat!
There are not currently any new levels for Cookie Connect in the works, but I will definitely put in the good word. Thank you for playing and wow! (I'm speechless.)
Phlinx II is calling my name (and yours, too … did you hear that?!?). So, I gotta run so I can achieve my goal of getting to the Celestial Level today. Woo-hoo!
Thanks for reading blog 20 and for being a part of the Pogo Community!
Have a great week.
Pogo_Llama


NOTE: Comments may take some time to be approved. Those which are off-topic or counterproductive to fostering a positive environment will not be posted. Thanks for reading the Pogo Insider!
If you're having troubles loading or getting into a Pogo game, please go to Pogo's Help Page. Unfortunately, I am unable to help out with any technical questions via the blog. Thank you!