Hello SCRABBLE game fans,
Pogo_John here. I'm happy to announce that we've released our much anticipated HTML5 update to the SCRABBLE. With this new update we are excited to expand our multiplayer games into HTML5!
With this release we've kept the core gameplay elements of SCRABBLE as is, however we did have to update the user interface to work within our new multiplayer engine. To help go through some of these changes one of our designers for SCRABBLE, Pogo_Martyn, has put together the following guide.
We do value your feedback, so let us know how you like the HTML5 update to SCRABBLE in the forums!
-Pogo_John
How to Find a Game
In the HTML5 version of SCRABBLE we've made matchmaking even easier. If you've played the Flash version, things are a bit different to what you've seen before.
This quick guide should get you playing and earning Triple Word scores faster than you can spell "QI"
Quick Play
If you want to get into a game against a human opponent as fast as possible, you'll want to start a Quick Play game.
To start, simply hit the Quick Play button. Then choose how many opponents you want to play against. A 2-player game has 1 opponent, a 3-player game has 2 opponents, and a 4-player game has 3 opponents.
You can also choose which rules to use. If this is your first game, we recommend playing Pogo House rules.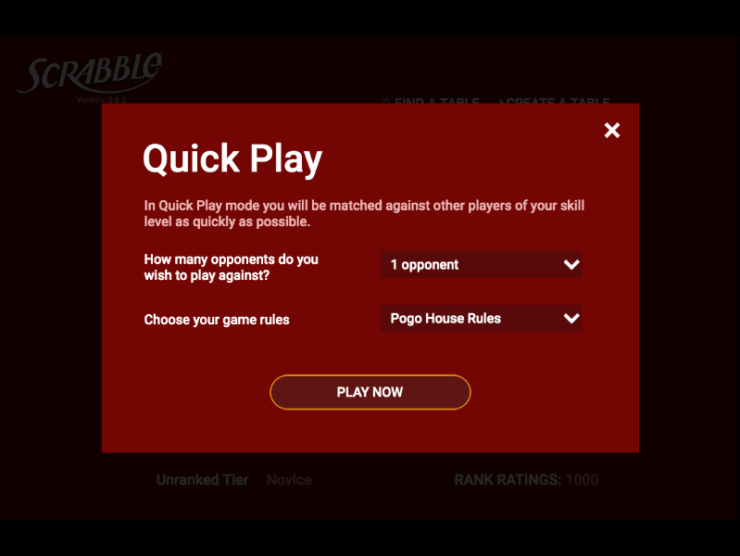 When you play games in Quick Play, we'll keep track of your wins and losses. We'll use that information to match you with opponents of the same skill level so you can focus on playing your best game and not searching for folks to play.
Play Robots
If you're looking to play, but don't feel like you're ready to play another person – or just want to brush up your skills – then you can Play Robots.
Just press the "Play Robots" button to get started, then choose opponents and rules as normal. Have fun!
Ranked Games
For those looking to challenge themselves, Ranked matches are the best place to go. These games use official National SCRABBLE Association rules and place you against an opponent of a similar skill level.
As you win and lose games your rating will change. Compare with friends to see which of you is the SCRABBLE master!
Ranked games can only be played as a 2-player game, using the NSA ruleset.
Custom Games
If you're looking to have more control over your game, or want to play with friends, you'll need to create a custom table.
You'll have a whole bunch of options to pick from, experiment and see which settings you like the most.
If you want to play with friends, make your table a private game and set a password. Be sure to let your friends know the password so they can play!
If you want to join a friend's game or want to join someone else's custom game, then head to the Find Table menu.
Here you'll get a list of tables that you can join. Your friends' tables will be conveniently sorted to the top of this page so you can find them quickly.
Thank you and have a great time playing the HTML5 update to SCRABBLE!