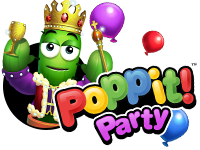 Poppit! Party is all about the POP! Pop more balloons and you will receive MORE rewards for completing Pop Goals!
Wait. What are Pop Goals? Well there are two types: Pop Goals and Daily Pop Goals.
Pop Goals
Easily identified by the target behind them, these Pop Goals are harder and will take more time to complete. They're always different and refresh at midnight after being completed or expiring. Complete all Pop Goals within one week for a costume piece reward.
Daily Pop Goals
Guess what? There are daily goals! Do you know what daily goals mean? It means daily FREE prizes! Complete all Daily Pop Goals in a day, (before Midnight Pacific Time) and you'll receive a GOLD CHEST as your reward.