Are you having trouble finding gold coins in in the Pogo Mobile Games Sweet Tooth Chewy Goodness Badge? Gold coins only appear on Medium and Hard difficulties.
To change difficulties click on the "Menu" button then click on Medium or Hard modes.
On Hard mode you should see Gold Coins immediately.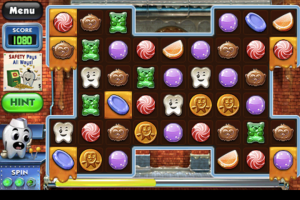 Match 3 or more gold coins to earn progress.
Don't have the Pogo Mobile games app yet? You can download it here: iTunes, Google Play, Amazon Kindle Fire.
iOS7 iPhone users having trouble logging in should enter their Password first, then their screen name carefully.