Hello Pogians!
Pogo_Llama here with a preview on Poppit! Party.
Poppit! Party will be launched soon so I'd like to introduce you to all of the various Spikes! To unlock the various Spike costumes, you'll need to collect at least one of each piece (head, body, and two accessories.)
And now….Meet Spike in all his loveable forms in Poppit! Party! 
Astronaut Spike! Collect:  Space Helmet, Astronaut Suit, Space Camera, and Flag.
Ball Player Spike! Collect: Baseball Hat, Baseball Jersey, Baseball, and Catcher's Mitt.
Chef Spike! Collect: Chef Hat, Chef Coat, Spoon, Chef Dish.
Cowboy Spike! Collect: Cowboy Hat, Cowboy Vest, Lasso, and Six Shooter. 
Disco Dancer: Collect: Disco Afro, Leisure Suit, Star Glass, and Disco Ball.
Firefighter Spike! Collect: Firefighter Helmet, Firefighter Jacket, Fire Axe, Extinguisher.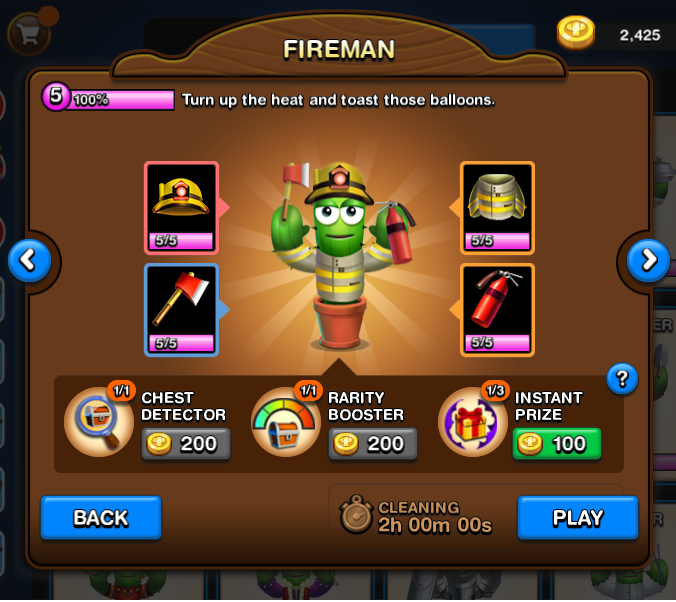 Gardener Spike! Collect: Sun Hat, Overalls, Watering Can, Garden Shovel.
Hippy Spike! Collect: Hippy Wig, Dashiki, Tambourine, and Flowers. 
King Spike! Collect: Crown, Regal Coat, Goblet, and Scepter. 
Knight Spike: Collect: Knight Helmet, Suit of Armor, Shield, and Sword.
Knitter Spike! Collect: Wig and Glasses, Sweater, Ball of Yarn, and Knitting Needles.
Magician Spike! Collect: Top Hat, Magician Tux, Handkerchief, and Rabbit.
Nestor Spike! (What?! YES!) Collect: Nestor Mask, Nestor Suit, Letter Tile, and Turnip.
Pirate Spike: Collect: Pirate Hat, Pirate Jacket, Sabre, and Hook Hand. 
Police Spike! Collect: Police Hat, Police Uniform, Night Stick, and Handcuffs.
Robot Spike! Collect: Robot Helmet, Robot Body, Wrench, and Screwdriver.
Safari Guide Spike! Collect: Pith Jacket, Safari Jacket, Binoculars, and Compass. 
Teacher Spike! Collect: Teacher Wig, Suit, Book, Triangle.
Tiki Brother Spike! Collect: Tiki Mask, Necklace, Parrot, and Fruit Drink. 
Tourist Spike! Collect: Tourist Hat, Tourist Shirt, Map, and Camera.
I hope you enjoyed this Poppit! Party preview!
Pogo_Llama