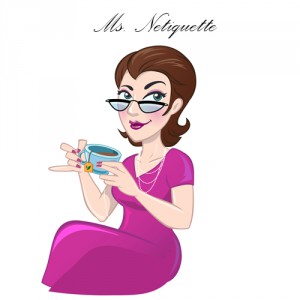 Dear Ms. Nettiquette,
I was in Spooky Slots where everyone was playing, chatting a bit, and just generally getting along. Of course, there were those few select people who felt it necessary to post the results of every spin, but oh well!
Then, a player came in wearing the badge of a Tournament Director, and all heck broke loose!  This group of players (the ones who posted every spin) ATTACKED this poor host!  There were comments such as "This is OUR room!", "Go find a temp room.  Tourneys aren't allowed here!", "The tourneys mess up our chat!" (you know, the chat that included EVERY spin result, which I consider to be spam!) and the like.
The TD didn't even say anything!  The director left the room, and they were all patting each other on the back about booting the tourneys out!  Another player and I both told them they were acting VERY rude, and they were proud of it!  One even said "That TD was the rude one!" (?!?!)  I left immediately after that.
I wax long-winded, I know, Nettie; but, I CANNOT tolerate bullying of any kind, and that is exactly what it was!  We hear so often about rude tourney players and disruptive TD's, but what about what they face?  They just wanted to play like everyone else!  Why couldn't these players just mute the TD, or better yet, go into a Private Chat?
Everywhere in the news we hear about zero tolerance for discrimination and bullying, so what about on Pogo?  There should be a box to check for "Bullying" when you want to report someone… hate speech or harassment don't quite seem to fit…
Appalled by Obnoxiousness
Dear Appalled by Obnoxiousness,
Thank you for writing on behalf of the much-maligned Tournament Directors. Oh, what a job they have! And, as you can see by the behavior of this one, they often simply leave a bad situation rather than attempt to try to be rational with irrational roomies. Many of them have mastered the art of patience, which is practically a prerequisite for the position!
So, how would one report such bullying behavior? Actually, harassment does fit perfectly. The Tournament Director must abide by the same Terms of Service that we all do. Thus, he or she is also protected by them. If, upon entering a room the TD, or anyone for that matter, is met with hostility and demands that the person leave that particular room, that person is being harassed. The TD, or "Room Enterer", has every right to file an abuse report. Furthermore, you as a player can do the same on behalf of the "Room Enterer".  The experience is unpleasant and while you might not be the target, a violation is still occuring.
So, my advice to you is to make a report when you see such behavior. Furthermore, if you see groans of frustration, but no real abuse, you can remind people that they can mute the TDs and tournament participants, or they can turn off the chat entirely.
Okay Nettie,
I am sure this has been addressed many  times in the past but I am so upset right now that I could scream, but think  I'll just pour another cup of tea and vent to you.
I was playing a hand of  poker which I often do and this woman started accusing another player of  cheating.  The accused was so confused and kept asking what she was talking  about.  Anyway, she said she had reported the cheater.  I told the  accused not to worry because this has been addressed before and it isn't  possible for someone to cheat in poker.  Ms. Accuser then said she had  reported men as a co-conspirator.  I told her I was not  concerned as I knew I was doing nothing wrong,
Why do people love making it  seem as they are Pogo police?  She kept saying that it was her "JOB" to  report us.
Accidental Employer
Dear Accidental Employer,
I gave you that name because it actually made me chuckle. Since it's "her job" to report everything, and you, by sticking up for the accused, became an accomplice, you gave her another task. You employed her. Yes, yes… I should know by now that if I have to go to great lengths to explain a joke, the joke probably wasn't that funny to begin with. Here's to hoping this is an exception!
Anyway, while I do feel your pain, alas, I can't really answer your question. Why do people love making it seem as they are Pogo police? Who knows? Sometimes you just run into people who have come to believe something irrational and reasoning with them is impossible.
All that said, I'd like to take this opportunity to acknowledge your smarts! You knew immediately that the accused was not cheating, and you also knew that the accuser's report would be deemed inactionable. You also didn't flinch when Ms. Accuser told you that she was reporting you as an accomplice.
Sometimes you just run into people who are rational and are able to see things clearly, and that is quite refreshing
Dear Ms. Netiquette,
The other night I played a game of canasta with a couple. The male was very cocky, borderline rude.  He made constant comments about how were were going to lose. Trash talking basically.
When my partner said that we had our work cut out for us, I laughingly said "I know they keep saying it". She said "no they were very high reds and were just slumming in the beginner rooms."  The couple got angry and said they were high reds, but playing here was there way of "chilling out". They went so far as to show me their high red names in the lobby and tell me how long they have been playing together.
I find this to be a form of cheating. There are rooms for more experienced players, so why come to a beginner room unless you're cheating? And why do you have more than one name if you're just chilling out? Am I wrong for feeling like I've been duped?
Signed
Feeling Played
Dear Feeling Played,
I can't say you're wrong for feeling a bit duped. Is what they did cheating? It certainly can feel that way, especially in your case, but it's not really. There are no rules about who can play where. Their rank is visible from the Game Selector room, so you can see if they're rated with a red, blue, green, purple or yellow emblem.
That does not, however, excuse their behavior. There are very good players who occasionally will play in the Beginner rooms to either play a more social game, or to help new players learn the basics. Also, some players like to have more than one account for a variety of reasons, one of which may be to "chill out". But to trash talk a new player and essentially brag about how you're going to win is at the very least, unfriendly
However, from your letter, it doesn't look like they actually violated any of our Terms of Service. I'm not saying that they didn't – just that from what you've written, it doesn't look like they did.  If they did go so far as to harass or intimidate you, then you could have filed an Abuse Report from within the game, by highlighting their name in the 'Who's Here' list and choosing 'Report Abuse'.
---
Have an etiquette question for Ms. Netiquette? Email msnetiquette@pogo.com
Want to chat with others about this column? Visit the Pogo Forums!
Frequently Referenced Ms. Netiquette Columns