Happy World Penguin Day!
Did you know it was World Penguin Day? Stop on over here to get your free Tokens in Mahjong Safari in honor of this delightful flightless seabird who reigns in the southern hemisphere.
Next week we'll be traveling to Seoul in Mahjong Escape! Mmmm … that sounds delicious! I looooove some bibimbap. What's your favorite Korean dish? Comment below! (Yup, my mind went STRAIGHT to food!) Oh, and here's a preview of what it'll look like! 
Phlinx II
I'm curious what you all thought about Phlinx II, which was released last Tuesday! Did you love it, like it, or are you still finding your way through it? Do you have non-technical related questions? If so, please comment below with them and I'll do my very best to find the answers for you.
In the meantime, one of the Phlinx II Producers, Joe, and I went over some player-facing questions we found in the Forums and answered them right here in this News article. Don't forget there was already an article of questions made here and an article all about Phlinx II Badges here.
Sneak peek:
I have TWO sneak peeks for you this week. First up is from Pogo Artist Tony's Limited Edition Badge for Father's Day. Tony describes this Badge as, "Deep in the Tri-Peaks Solitaire Temple, a pair of young adventurers must make a daring escape when their ceremonial Father's Day offering doesn't go as planned."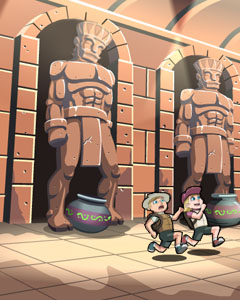 Mini Preview: "Cooking Up Fun" for April 27. (That's THIS coming Thursday!)
Of this particular Mini release, Pogo_Rachael says, "One thing our Mini makers have in common with our Players is a slightly saucy sense of humor. If it involves puns or wordplay AND food, all the better! We've had our Mini artists whip up a handful of silly new food-themed Minis just for you! Hopefully this sneak peek whets your appetite."
Which Mini in this collection is your favorite? I personally like the look of the hamburger head but my healthy side is telling me to go for the broccoli!
Behind the Scenes … with Pogo People!
We're taking the Pogo Insider Questions to a whole new level this week with an in-depth interview with Pogo's own, Pogo_Limes. I've rounded up your questions from last week's blog so here we go!
Pogo_Llama: Hi Pogo_Limes! Would you please take a few sentences to tell the Pogo Community about yourself?
Pogo_Limes: Hello everybody, I'm Pogo Limes. Some of you may have seen me around on some Pogo Mini Shows. I handle the content side of Pogo, this includes scheduling any new content that you see, such as Challenges, Events and Badges. I've been at Pogo for 3+ years now and I mostly stay "behind the scenes," as the saying goes. I also work closely with a lot of familiar (Mini) faces that you may have seen.
Pogo_Llama: Let's get right to the heart of it. What we all want to know is whether you have any content updates for us, Mr. Limes?
Pogo_Limes: We have an exciting year planned for Badge Collectors. The early part of this year was really about setting everything up so we can get a lot of great things out for the Community. (Pogo_Llama: !!!!!) Now we are focused on bringing out new Events and scores of Badges. First of all, congratulations to the Community on another successful encounter with our last Side Wide Challenge. I love seeing how you all successfully pull through at the end. Besides the Site Wide Challenge, we are working hard behind the scenes to come up with even more fun, new Events.
While I would love to share all of our plans, some of it's just not yet ready, but I can give a sneak peek on an upcoming new Event … wait for it … The Badge Marathon.
One noticeable difference with the Badge Marathon is this event does not involve working together with the Community like the Site Wide Challenge. We'll share a full preview of what this Event entails next week, but let me just say that if you like Free Badges, you won't be disappointed.
So, get ready. This Event is starting on May 8th and will last one week!
Pogo_Llama: OH Mylanta this sounds amazing, Sir Limes! The Community has certainly been awesome with their requests for Badges. I wonder if we could ask them for their advice on some upcoming Badges?
Pogo_Limes: Indeed. Thanks to the Community for sharing their feedback about how they love all of the free Badges they received in 2016. This was not a one-time thing, and you can all look forward to more free Badges this year.
In July, you'll all receive THREE FREE Legendary Badges! We have two games chosen already, but we'd love for the Community choose the third game from a list of games that may not always be the player's first choice. How about we create a poll with some games that we provide and the winner of this poll will be the 3rd game for the July giveaway? You can all vote on your favorite game. After one week the top game from the Community Poll will be added to the July Badge Giveaway!
Pogo_Llama: YES! That sounds absolutely awesome! Folks, please take this poll!

Loading ...
And now it's time to answer questions directly from the Pogo Community!
PTD889096: How do you decide which games to use for Challenges & why do some games with no Ranks or Game Award Badges (the incredibly boring Find-O-Vision & the somewhat fun Pyramid Solitaire) receive more Challenges than some games that have Ranks & Game Award Badges (the amusing Monkey Gems & Payday Poker)?
Pogo_Limes: We try to choose games players spend lots of time playing, aka "game time." So, it's a bit of balancing act that we constantly try to maintain. And we try as best we can to please everyone. I can look into where we can get Monkey Gems and Payday Poker into the Challenge rotation, for sure. For Payday Poker we just released a new Art Badge for which came out on Sunday! Thanks for the suggestion!
PTD889096: Another question – there are a ton of Badges/Challenges for HOGs (hidden object games) like Clue, Claire Hart & Big City Adventure, but relatively few for Undiscovered World & Sherlock Holmes. (Thank you for including Sherlock in the latest Site-Wide Challenge.) Are there any plans to increase the number of Badges for Undiscovered World & (especially) Sherlock Holmes?
Pogo_Limes: Because CLUE, Claire Hart and Big City Adventure have a bigger following, likely because they've been out for a longer time, we have more Badges for them. I can say that there is a Wednesday Challenge coming out next month for Undiscovered World, though. Also, I would expect the number of Badges for each of those HOGs to be closer to each other this year.
MomsBassetHound: Payday Poker was released 3/17/16 and there has never been a Badge, Weekly or Premium. Why? It's a great game, but without Badges there's really no incentive to play it. Thanks!
Pogo_Limes: Thanks for your question, MomsBassetHound! We didn't see a lot of players gravitate towards Payday Poker so we didn't run as many Challenges for it. Since this is the 2nd question for Payday Poker, I can add it to an upcoming Wednesday Challenge (Shhh…. In July!) and see what Players think! :)
Lalascrazy7: Can you please bring back the Best of Bowling PBA Album? Can you make it possible for us to choose which rank ball we play with (like the cups in Yahtzee or the pieces in Monopoly)?
Pogo_Limes: Yes, we can absolutely bring back the Best of Bowling PBA Album. Look for it sometime next month or early June. Making a simple change such as choosing rank ball can sometimes be way more complicated on the backend. We might not get to it right away, but we can look into it for the future.Thank you for your question!
Maddogturkey1: Can you ask Pogo_Limes if he could incorporate more cats into the Badges? Also can you please have more kitties in the Mini Mall. Us cat lovers/owners are left out in the cold a lot of the time.
Pogo_Limes: I love cats! I used to have a snowshoe cat, actually! I just asked Pogo_Rachael and she said there is a Collectible Leopard coming out soon soooo…does that count? There is also a "feline" collectible coming with more cats. For Badges, there are some plans, but nothing immediate. Thanks for that very purrrfect question.
dryphoenix: Doesn't it make sense while people can still play Java programming games, to bring out of the vault a large number of Java M&Ms and albums with java challenges?
Pogo_Limes: We are working on bringing out Java releases. Just recently, we tested this with a couple Badges in the re-release. The one concern we have is seeing an influx of complaints from unhappy players who purchase the Badge without being able to play. But if everything works out, we'll totally re-release more Java Badges. Thanks for your question, dryphoenix.
Pogo_Llama: There you have it folks! Don't you feel like you know Pogo_Limes just a wee bit better now? Thank you SOOOOOOOOOOOO much, Pogo_Limes, for this very informational interview and for taking the time to answer player questions from the blog comments.
'Tis that time, my dear Pogoians, where I bid adu and go forth with Tuesday. Thank you for reading another edition of the Pogo Insider. A reminder we're on Pinterest, Facebook AND you can leave your (non-technical) comments below here in this blog or in this forum thread.
Take care,
Pogo_Llama


NOTE: Comments may take some time to be approved. Those which are off-topic or counterproductive to fostering a positive environment will not be posted. Thanks for reading the Pogo Insider!
If you're having troubles loading or getting into a Pogo game, please go to Pogo's Help Page. Unfortunately, I am unable to help out with any technical questions via the blog. Thank you!