Hi!
Today is the day before my birthday! As such, I'd like to celebrate new beginnings!
Look at lil Pogo_Llama all those years ago!
Sneak Peek:
Artist Tony wanted to join the celebration of new beginnings with a nod to Mothers by showing us all a sneak peek into the 2017 Mother's Day Limited Edition Badge!
Tony says, "No flowers go to waste in this Mother's Day badge. When a young man drops a few as he sprints through the park to meet his Mom, the other patrons snatch them up for their own Mother's Day celebrations."

Oh! And THIS!
Here's a Pogo Insider exclusive offering! Go here to get your free Mini item called Springtime Treats. Thanks, Pogo_Rachael!

Cookie Connect
Do you have a how-to Cookie Connect tip for the Pogo Community? Tell us about it in the Comments!
I have a tip to share with you all, actually! Did you know it IS possible to pass every level of Cookie Connect without the purchase of Power Ups? Truth! If you are stuck on a level, ask questions via the Cookie Connect in-game chat feature. Or, if chatting isn't your jam, you can leave a comment below. Or, you can always look for tips in the Forums, too. No problemo!
Community helping community is just another reason I LOVE Pogo!
That said, you might find it's difficult to find specific tips on a particular level. Know why? Each time you load the same level in Cookie Connect, the Cookies you get are different. What-what? Yep! No two games will ever be the same (just like snow flakes)! So, there are no truly formulaic tips about any one level. Tricky, tricky!
There's another question I've seen popping up a lot that I want to address, as well: How do you start a game of Cookie Connect?
So glad you asked!  Once you enter the game, you are automatically transported to Level 1. Once inside Level 1, the tutorial will start. It's a quick little instruction that shows you how select Cookies, and guides you through a few steps. Easy! And once you've done that, your game begins, and you're on your way to collecting Cookies galore more!
Here's what you'll see when the tutorial begins:
Phlinx II
The NEW Phlinx II is just around the corner and I wanted to share some more behind the scenes glimpses into this newly imagined, mystical world. But first thing's first!
Meet Amelia and her friendly feline, Nile!

The curious (yet far from naïve) Amelia is currently exploring Egypt. Intelligent, friendly and a generally happy gal, the mystical Glyphs of Phlinx II bring out her curiosity. (She loves cats, too!)
Phlinx II has several different modes – day and night – you can unlock as you go! Here's a looksee:
Common Phlinx: Always Available
During the day, you will have one of two objectives that will be given to you at random. Either match 30 Stones of a specific color OR match 75 Stones of any color. Match them to fill the meter. When night falls, match neighboring Stones to unwrap Mummy Stones.
Common Day

Common Night

Noble Phlinx: Unlock
This is Phlinx as you've always known it, dropping stones to satisfy your objective. However, the twist now comes between dropping stones of any color or those of a unique color.
Noble Day

Noble Night

When you make it through Noble Phlinx, you'll unlock Royal Phlinx which has a whole BUNCH of different Gates including the Royal Phlinx Anubis Gate, the Royal Phlinx Bastet Gate the Royal Phlinx Thoth Gate, and the Royal Phlinx Hathor Gate.
Royal Day

Royal Night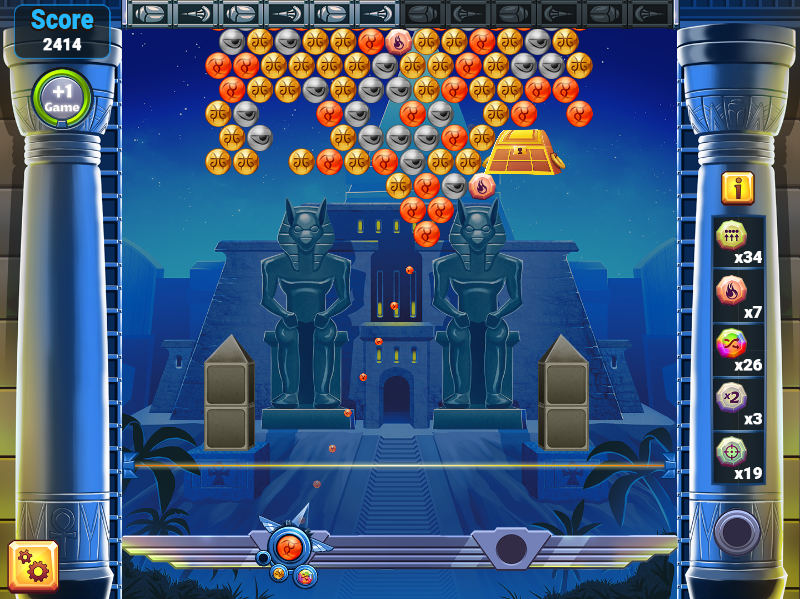 Progress through all the Royal Phlinx Gates and you'll permanently unlock Celestial Phlinx for a month. Celestial Day introduces Bomb Stones. And Celestial Night keeps adding treasure chests, increasing the difficulty, each time.
Celestial Day

Celestial Night

Here's a BONUS photo of Celestial Night 2

Here's a look at the Map. Plot your Phlinx II game plan!
Phlinx II is due out soon, so keep your ears and eyes open to the Pogo Insider!
Every week I answer a question or two (non-technical) related to Pogo. We get lots of questions every week, so I try to focus on common themes or the same question coming from different folks. To submit your questions for the Pogo Insider, click here!
(For technical issues, please go to Pogo's Help Page.)
Q: Is it possible to make all games full screen?
A: I am advocating for this to happen.
I'd like to see as many games as possible be full screen. Because I know, even from experience, that it is sometimes more enjoyable to play games when they're easier to see. I also realize that many struggle with vision problems; I would love for you ALL to enjoy Pogo games, no matter what.
So, the question remains, can something like making all games full screen be done fast? And the answer to that is, unfortunately not. It takes (lots of) time to implement a change such as that. But I'm pushing for this, going into the future, and for new games.
Wish me luck! I'm looking out for you – promise.
Random non-gaming stuff:
Being mindful and taking long, deep breaths really helps get me through my day. (And, currently, through the different levels of Cookie Connect.) So, here's a gentle reminder to stop every once in a while to take a deep, centering breath. And that is Pogo_Llama's Zen moment of the day.
Alrighty folks, I'm going to go check on how our TOP SECRET Pogo mobile web product is getting along. Oh, you haven't heard about it yet? Then I recommend you read about it here. Super exciting stuff!
Happy new beginnings to you in whatever it is you are beginning. Be positive and know you can do it! Hope you all have a fabulous day and a fine Pogo_Llama birthday week!
P.S. Oh! I almost forgot … would you take a quick survey for us about travel and World Class Solitaire? Please click here for that.
Thank you so much – your opinion matters!
Talk soon!
Pogo_Llama


NOTE: Comments may take some time to be approved. Those which are off-topic or counterproductive to fostering a positive environment will not be posted. Thanks for reading the Pogo Insider!
If you're having troubles loading or getting into a Pogo game, please go to Pogo's Help Page. Unfortunately, I am unable to help out with any technical questions via the blog. Thank you!