Everything is springing up Pogo!
We're about a week away from Spring and I can't wait for that extra hour of sunlight. Ahhh! Plus, everything is coming up flowers (and bees – I love bees) on our updated Facebook fanpage, thanks to our fantastic Pogo artists. Follow us on Facebook, if you're not already.
** All new games that are being previewed below will be available on Pogo.com coming soon!
And you know what else I like? COOKIES!
Pogo Insider EXCLUSIVE: Cookie Connect
We can't wait for you to sink your teeth into this delicious HTML 5 treat. I mean, COOKIES. C'mon! You won't have to daydrool … I mean, daydream … long before getting your first taste of Cookie Connect on Pogo in the next few weeks.
Cookie Connect is almost fully baked, so in the meantime, catch a whiff of what's coming soon in these tasty screenshots I whipped up just for you. YUM!
(Another) Pogo Insider EXCLUSIVE: Phlinx II
'Tis the season for all things new, new, new! Get swept away in the ancient mysteries of ancient Egypt in all-new Phlinx II. Join Amelia and together unravel intrigues in a paradise bedecked with powerful glyphs.
I practically had to pry these super-secret, sneak-peak photos out of game developer Joe's hands. And he let me have them because I promised you all wouldn't tell a soul! ;)
Phlinx II is on its way soon … stay tuned for more details about this HTML 5 treasure.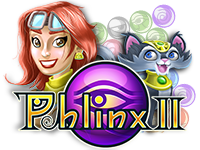 (Yet Another?!?) Pogo Insider EXCLUSIVE: Poppit! Party
Feeling fancy? Good! Because Spike is back and he's throwing one heckuva a party in Poppit! Party!
From the looks of these photos we got our hands on, looks like Spike's got some interesting taste in party attire. I guess we'll learn more as time goes on – keep checking in here for the latest updates!
SneakPeak:
Pogo_Rachael is here in this glorious blog post number 14 to clue us in on CLUE Episode 339 (Which will be free to Club Pogo Members next Monday, March  13th). Oh, and don't forget about  b Episode 338, too, which will be released at the same time as Episode 339! ;)
"I'm a big fan of St. Patrick's Day and I really wanted to play that up in this episode of CLUE.
In it, the top leprechaun of Ireland has gone missing for mysterious reasons. All of the scenes in this episode take place in Ireland; I had a lot of fun talking to an Irish coworker about their favorite locations.
Because this episode is free for our Club Pogo players, I also wanted to make sure that our CLUE artists made the badge extra-special. We always want our badges to look nice, of course, but we know how much everyone likes to show off holiday-themed Badges & chat icons. Here's a preview of Episode 339's leprechaun-themed Badge. You'll be able to earn it yourself on Monday, March 13th!"
And because Pogo_Rachael is so super awesome and loves the Community so much, she tossed in a bit of an "extra" sneak peak this week (hey, that rhymes!) with The Brothers' Treasure Limited Edition Mini!
(Speaking of St. Patrick's Day, I'm curious what the Pogo Community does to celebrate? I'd love to hear some good family-long traditional St. Patrick's Day celebration stories! Put 'em below in the Comments, please!)
Every week I answer a question or two (non-technical) related to Pogo. We get lots of questions every week, so I try to focus on common themes or the same question coming from different folks. To submit your questions for the Pogo Insider, click here!
(For technical issues, please go to Pogo's Help Page.)
Q: A few weeks ago, you may recall we had the Kimono My Heart on sale in the Mini Mall for 32,000 Tokens. A few people asked if this was a typo the real price. Let me answer that right here.
A: Indeed, that item was on sale for 32,000 Tokens on purpose.
This is an indicator the item had previously been in the store at some point. It had been set to that cost so when it went back into the Mini Mall, the price remained the same.
That's usually the case when we put items back in the Mini Mall. Hope this helps to clarify and apologies for any confusion. (If you're newer to Pogo or missed out on some of the older releases, now's your chance to snap them up!)
Q: There are plenty of players who would gladly spend their gems to have some fun playing some of the older PBAs and M&Ms which are in the vault but have never seen the light of day since being placed there. Seems like a win-win situation since nothing new would have to be created on your end and players would enjoy it immensely! 
A: Alrighty folks, it's your turn to chime in. Which older PBAs and Badges would YOU like to see come back to the Vault? Please comment on your PBA and Badge wishes below.
Man … I am wiped out after all that goodness! And you guys have some work to do, clearing your entire spring and summer schedules to play all these new games. Because when Pogo gets Spring Fever, we don't mess around. Having fun is serious business around here! J
And don't forget, Daylight Savings Time starts this Sunday, March 12 (yay!). So set those clocks one hour ahead before going to sleep on Saturday night.
TTFN!
Pogo_Llama


NOTE: Comments may take some time to be approved. Those which are off-topic or counterproductive to fostering a positive environment will not be posted. Thanks for reading the Pogo Insider!
If you're having troubles loading or getting into a Pogo game, please go to Pogo's Help Page. Unfortunately, I am unable to help out with any technical questions via the blog. Thank you!